HiFuzzyPet Adjustable Dog Muzzle for Biting Barking
The soft and adjustable dog muzzle is designed to prevent your puppy from biting/barking outside, helping to train them to develop good habits, while the dog can also eat food without obstacles.
Feature:
【Omfortable and Breathable】Made of breathable PU leather material, the soft muzzle can ensure the dogs to feel cozie and free when it runs indoor or outdoors. At the same time, this lightweight material can reduce the weight burden of pets.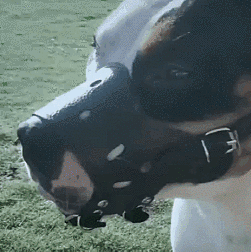 【Adjustable】The leather muzzle is adjustable, And the gentle leather neck strap is easy to wear and install. Metal buckles on the muzzle can prevent the muzzle falling off and allows you to adjust the muzzle according to the size of your pet for extreme comfort.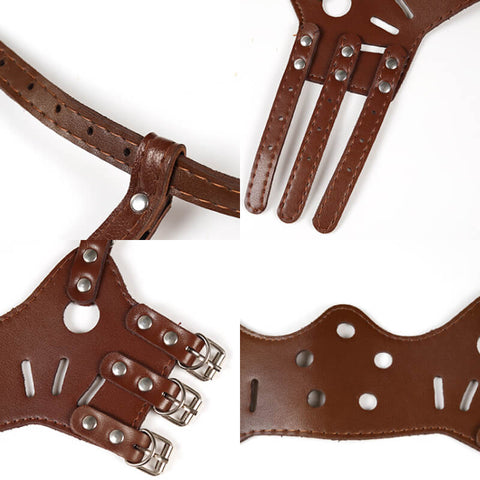 【Pet Corrector】Stop your puppy dog from wound licking/ barking/ biting / eating unclean food/uncontrollable when grooming. Help to train them to form the good habit and keep fit.
【Multi Sizes】The dog muzzle is available in 6 sizes. It can be used for small dogs, medium dogs and large dogs. But it's not fit for the dogs whose mouth length is under 1.96in for the muzzle may drop off.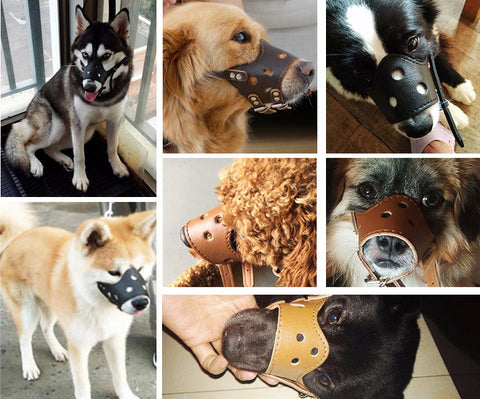 Size:
A=Mouth front circumference
B=Middle mouth circumference
C=Hindbrain length
XS : A:4-5in,B:5-6.7in,C:4-12.6in
S :  A:5.5-7in,B:7-8.7in,C:4-15in
M :  A:7.5-8.7in,B:9-10.6in,C:7.9-17in
L :  A:9-10in,B:11.4-13in,C:7.9-17.7in
XL :  A:11-13in,B:12.6-15.7in,C:11.8-19.7in
XXL :  A:11.8-13.8in,B:15.4-17.3in,C:11.8-21.7in
How to Vorrectly Use Dog Muzzle:
Lock up the  leather straps.
Put it on the dog's mouth.
Adjust the place to be firm.
Following the neck to buckle the neck straps.
Note:
Right Fit : Make sure you have chosen the correct size for your dog.
Avoid Unsupervised : Do not leave your dog unattended when wearing it.
Short-time Use : The muzzle should not be worn over a longer period of time.
Muzzle Training : Proper training is necessary before offcial usage.
Keep Encouraging : The muzzle should not be used to punish the dog. Help your dog get used to the muzzle loop,e.g. by giving treats through the muzzle when fastening it. This will provide positive reinforcement.
Package includes: