HiFuzzyPet Smart Automatic Dog Feeder with Timer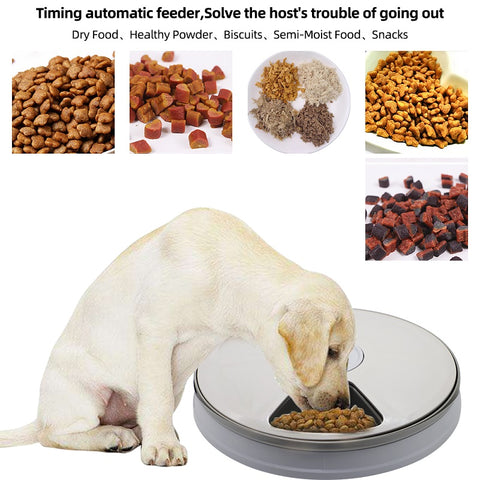 Tired of those early mornings when your pet decides it's breakfast time? No need to worry anymore!
Our automatic dog feeder keeps up your pet's healthy feeding routine no matter what time it is or where you are.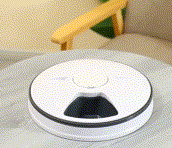 Feature:
【High-Quality Material】The portion control cat food dispenser is made of impact-resistant, safe and high-quality ABS housing material with no odor.
【Saft Design】There is a cover over the dog feeder control panel to prevent pets from damaging them.
【Build-in Timer and Voice Reminder】The pet feeder design with voice reminder. The plate of the pet food dispenser automatically rotates to a precise position and makes a sound at a set time point to attract pets' attention. Runs on timed intervals.
【Quick and Easy Setup】Use the built-in clock and LCD screen to quickly set up your pet's feeding schedule. 3*AA battery-powered design(Battery not included). 
【Care for Your Pet's Health】The automatic dog feeder helps you create a good feeding routine for your pet. The automatic dog food dispenser ​offers six compartments that contain 768g of food (Each tray slot holds 128ml dry food or semi-moist food). 
【Schedule Your Pet's Meals】You can set up to 6 meals/day or 2-3 meals/day. Fill in the food for each tray and close the lid and set the time to complete the setup. 
Pet Food Dispenser allows you to customize the feeding time and food amount for great flexibility. Prevent overheating by controlling precisely the amount of food your pet can access.
【Easy to Clean】Both the cover and food bowl are removable and top-shelf dishwasher safe.
Specification:

Material: ABS and electronic components
Bowl grid: 6
Battery: 3*AA battery (not included)
Function: Music reminder
Suitable for: Small and middle dogs cats
Size:12"*12"*8" / 30*30*7cm
Single-cell capacity: 128ml
Package Includes: 1*Automatic Dog Feeder
Tips:
Do not use to feed water, it will damage the motor
During the cleaning process, keep the LCD screen away from water to avoid damage to the LCD display.
How to Use:
Install the battery 3*AA(not included)
Open the cover
Load food(dry and wet)
Cover the cover
How to set the feeding time:
Click the power button to turn on the machine.
Click the Settings button to set the interval.
Click to set the hour, press TIME (+)/ TIME(-) to increase and decrease.
After setting, click to set the minute, press TIME (+)/ TIME (-) to increase or decrease the minute.