HiFuzzyPet 360° Rotatable Cat Brush for Shedding and Grooming
 Cat hair brush gently removes loose hair, eliminates tangles, knots, dander, trapped dirt from pet or mat to keep your pet clean and healthy.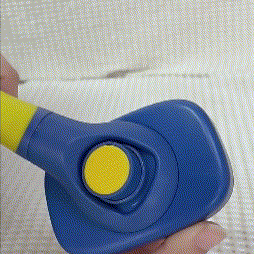 Feature:
High Quality: The body of our cat brushes for indoor cat shedding is made from premium protection material ABS. It's strong and not easy to break. 
Safe Massage Pin: Arc pins of cat brush with round massage beads design won't scratch your pet, doing massage is good for increasing blood circulation.
Easy Storage: There is a hole at the bottom of the comb, which makes it easy to hang cat shedding brush on the wall, furniture and so on. Make your house tidy.
One-click Cleaning Button: After brushing your pet, simply click the button. The shutter will pop out, separating the brushed hair from the metal needle and then wiping the hair off. 
360° Rotating: Adjust the suitable angle of the brush to make it comprehensively contact with the pet's fur, it easy to clean various places.
Unique 135° Bristle: Stainless steel bristles design of 135° increase durability of the pet brush, especially for matted hair and trapped dirt that makes it strong and durable.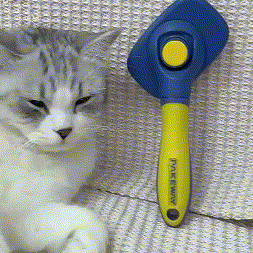 Specification:
Material: TPR, ABS and stainless steel needle
Suitable for different breeds of cats and dogs
Color: Purple, Blue, Orange
Size:
Rotating version: 7.52"*3.78"*2.13" / 19.1*9.6*5.4cm (Rotatable)
Standard edition: 7.28"*3.78"*2.13" / 18.5*9.6*5.4cm (Not rotatable)
Package Includes:
1*Cat Brush 
Tips for Brushing:
1. Before starting a grooming session always wait until your cat is laying relaxed on the floor.
2. Pet her/him a minute before beginning brushing.
3. Let them sniff the brush before you begin working.
4. Use a light touch! Remember that they have sensitive skin so go lightly!
5. You can guide with snacks. Eventually, he will trust you and the pet hairbrush.