HiFuzzyPet Professional Cat Recovery Suit for Abdominal Wounds
The cat recovery suit will be your pet's partner and make the recovery process easy and pleasant for pets!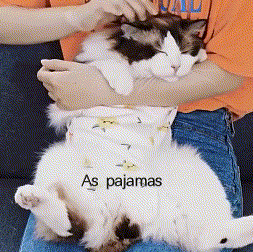 Feature:
【Cozy & Soft Fabric】The cat recovery suit is made from upgrade cotton & spandex blend. It is breathable, comfortable, and durable which helps the wound to heal safely and creates a comfortable wearing experience for your cat during the postoperative recovery period.
【Abdominal Wound Protector】Our pet recovery suit provides comprehensive protection for the cats which keeps them from licking or scratching at the wounds and protects your cat from secondary damage after undergoing surgical trauma.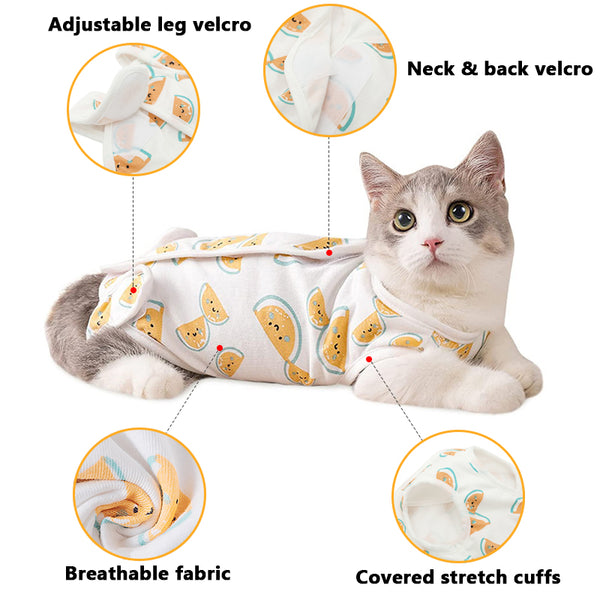 【 U-shaped & Limb binding】The kitten surgery recovery wear has a big opening at the rear enabling cats to use the litter tray without opening the recovery suit. At the same time, the limbs are edge-design, which is wear-resistant. 
【Magic Tape Around Legs and Back】The cat post-operative jumpsuit features a velcro design to fit the pets great and your pets will not be feeling bound. 
The large magic sticker on the back and legs of the recovery suit for kittens makes it easy for your pet to put on and take off so that it takes you only a few minutes to do that.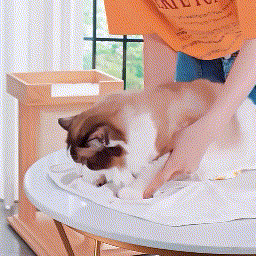 【Close-fitting Fit】The close-fitting fit brings warmth. The cat is like in the owner's arms, psychologically appeases the injured cats, and plays postoperative stability.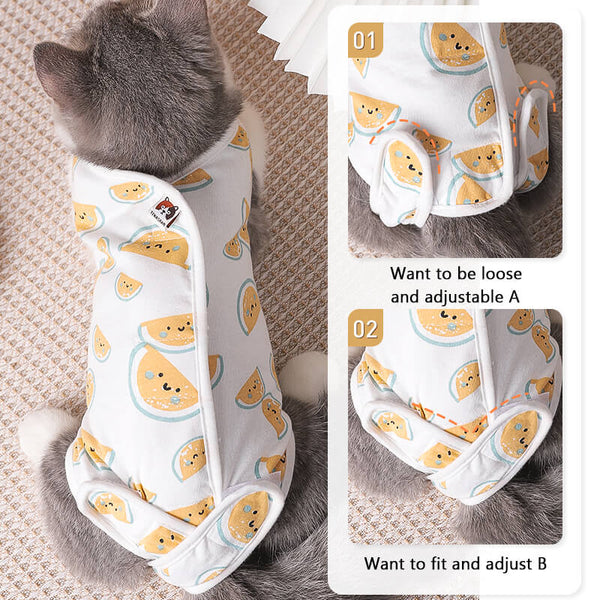 Effective Assistance:
Allergies, skin diseases, or infections.
Protect the pet's abdominal surgical wound.
Cat needs to keep warm. Such as after shaving.
The kitten is weaned, and they the avoid the cat from licking.
Specification: 
Material: Cotton+spandex (Micro elasticity)
Style: Lemon/ Watermelon
Suit for cats and small dogs
Size (Measuring in chest and back length) :
S:3.3-5.5lbs (3-5kg)
M: 5.5-7.7lbs (5-7kg)
L: 7.7-13.2lbs (7-12kg)
XL: 13.2-16.5lbs (12-15kg)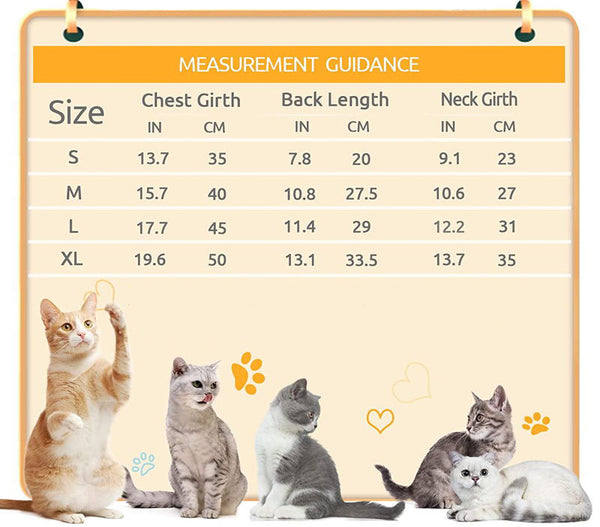 Note:
1. If your cat avoids wearing it, please know that is normal that cats may break free and go around when they just put them on.
2. Please measure your pet carefully before purchase, if the measurement is close to the end of the size range, go up to the large size.
Package Includes: 1* Cat Recovery Suit