HiFuzzyPet Cat Window Hammock, Space Saving Window Perch for Cats
Cozy cat hammock
Wall-mounted
Allows 2 cats to stay on at the same time

It is well known that cats are always looking for a place with a nice view to enjoy the sunshine. Our cat window perch can provide a 360° Sunbath for cats.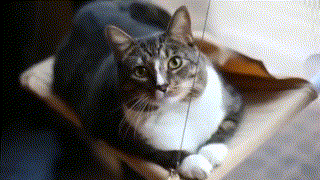 Features:
Durable & Cool: Cat hammock is a perfect cat resting seat the cat hammock stand use of advanced pipes, ​non-deformation, good luster and Safety strong. Cat window hammock features a breathable, durable oxford cloth base, providing a secure foundation for your pet to lie on.
Calming & Comfortable: Perfect for cats that like basking in the warm sun or active cats that desire a high vantage point. Helps reduce separation anxiety and keep messy hair on your furniture.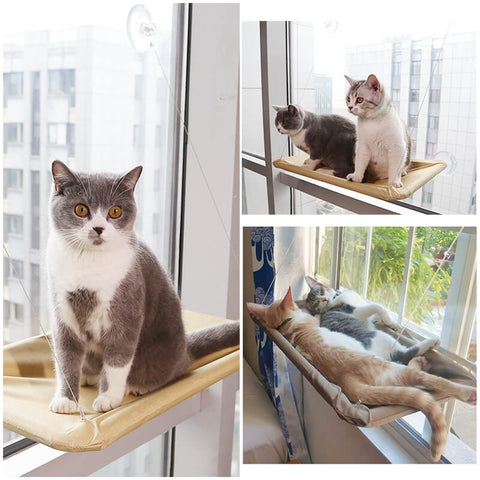 Safety & Space-saving: Industrial strength suction cups hold up to an amazing 30 pounds. Your cat could jump in and jump out of this resting seat, which is another kind of exercise, keeping good health of your cat. Space-saving design provides a comfortable spot without taking up valuable space in your home.
Easy to Clean: The cover easily comes off and can easily be cleaned by hand washing.
Easy Assembly & Disassembly: Install Hammock to windows or sliding glass doors, please press 4 suction cups hardly on smooth and cleaned glass. You can put weight on the hammock to test its tolerance before your kitty jumps into seating perch.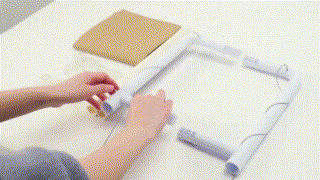 Assemble Steps
1. Insert the connecting pipe into the frame.
2. Put the wire rope through the hole and put the whole frame into the hammock.
3. Insert the suction cups pipes.
4. Put the head of wire rope in the suction cups.
5. Press 4 suction cups on smooth and cleaning glass hardly.
6. Try to press the cat hammock to ensure it can be hold your pet.
Tips:
Keep the windows clean and smooth.
Put the suction cups into warm water(30-50℃) to increase suction.
Dry the suction cups.
Press firmly to squeeze out the air.
Specification:
Material: Soft & Breathable Oxford Cloth + Plastic;
Size: 21"x13"x0.9"/ 55x35x2.5cm(L x W x H);
Maximum Weight Capacity(lb.): 38 lb.
Detail: Strong PVC frame; Powerful large suction cups; Tough double steel strands that can be pulled and bitten.
Suitable: smooth and air-tight surfaces, such as refrigerator/glass/flat tiles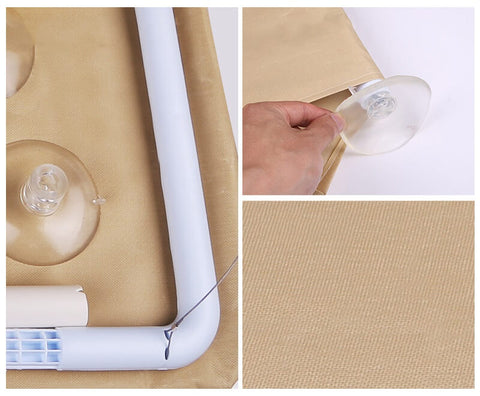 Package included:
1×Cat Hammock
4×Suction Cups