HiFuzzyPet Center Console Dog Car Seat
Pet car center console seat suitable for small dogs or cats. You can give your small pet an exclusive seat, which can be fixed on the armrest box or placed on the seat.
With our pet car seat, the car space will no longer be occupied, you can touch or watch your pet at any time, and you can also sit on the copilot to feed him.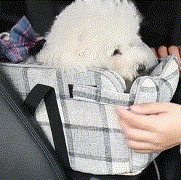 2 in 1 Dog Car Seat: The dog booster seat design with comfortable shoulder strap for ease of carrying. Install the dog seat on the console while driving, provide your pet a comfortable car trip.
Comfortable & Easy to Clean: The pet car seat is made from cotton and linen, which is very comfortable and fluffy, Your pet will not feel uncomfortable lying on it. A removable cushion can be easily machine cleaning.
Prevents Distracted: The two safety belts fix the dog console car seat to fit firmly to the car armrest to prevent it from sliding in the car. Equipped with a pet harness hook to prevent your pet from running out. While ensuring the safety of pets, prevent pets from disturbing driving.
Easy Assemble: The dog central control car seats for small dogs can be quickly installed on most standard car seats, front armrest box or rear armrest box as your like, not only does not occupy the seat in the car but also allows your pet to have an excellent view of the scenery outside the car.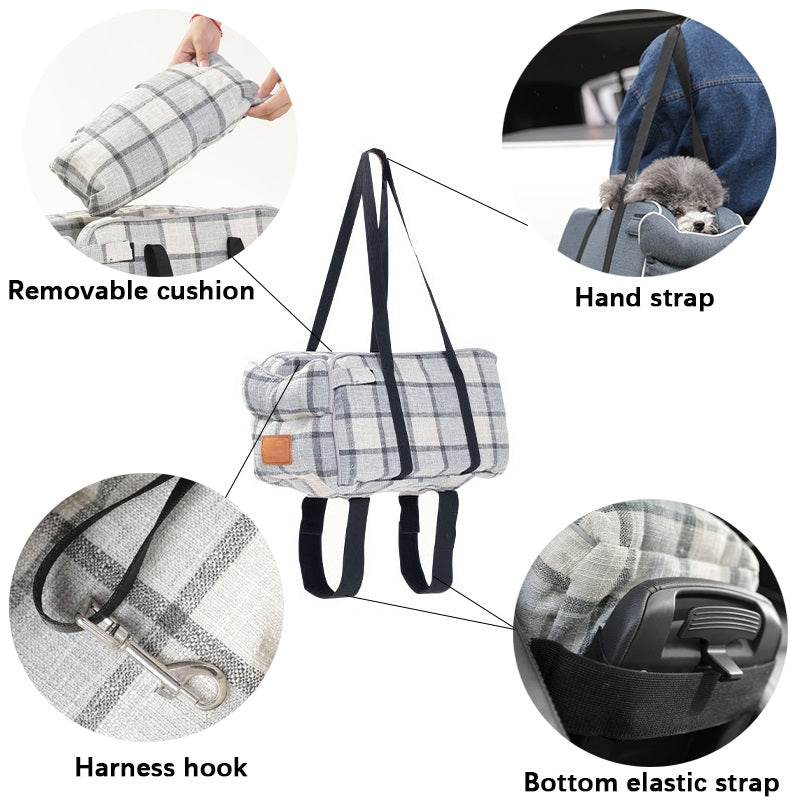 Features:
1. Can be hand-carried, cross-carried, and can be fixed in the car.
2. Can protect your car seat from scratch, hair, smell, and dirt as well as keep your pet safe.
3. The inner soft cushion is detachable, comfortable, available in all seasons.
4. Built-in safety belt, buckle, durable, safe and reliable, not afraid of bumps and break free.
5. Adjustable front pillow: can be put down to let pets sleep comfortably.
6. Stable seat, wide field of vision, relieve anxiety, and prevent motion sickness.
7. The whole body can be washed.
Specification:
Color: Beige grid and Dark blue
Two Style: With/without hand strap
Size: 49x25x21cm (19.2x9.8x8.2inches); Weight: about 660g
Material: Cotton and linen blend
Applicable: small and medium-sized cats and dogs, cats less than 12kg/26lbs, dogs less than 8kg/17lbs
The package includes: 1 x Central Control Dog Car Seat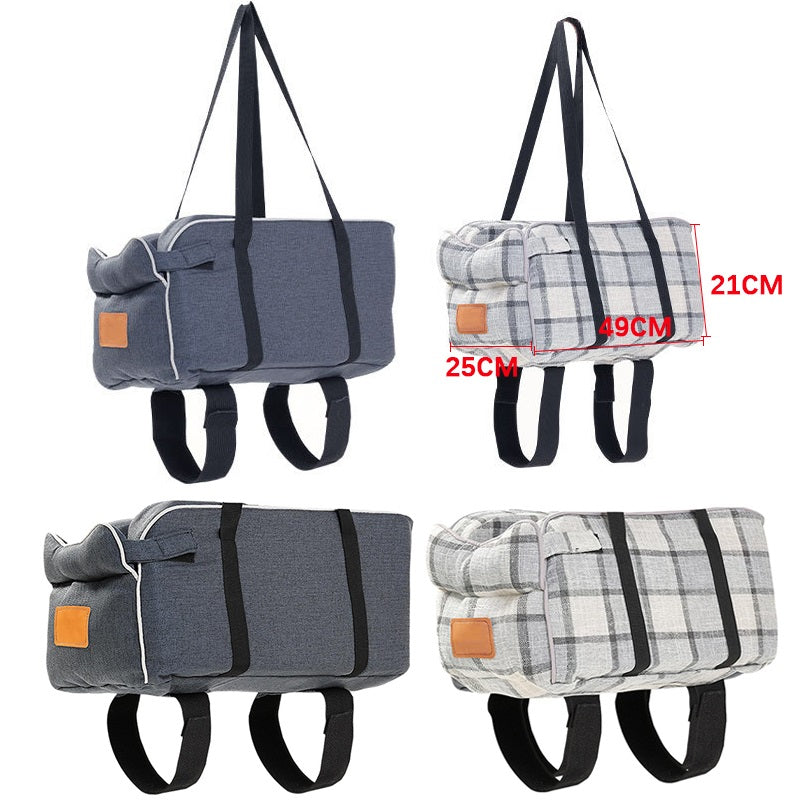 Note:
1. Due to lighting problems, the actual product color, and the picture will have a slight color difference.
2. Due to manual measurement, the actual size will have a deviation of 1-3cm.