HiFuzzyPet Christmas Puppy & Cat Bed House for Indoor Cats
Use a Christmas cat bed to create a warm and loving home, and also add a joyful Christmas atmosphere to your house.
Soft enough for cats to quickly relax and enjoy the comfort
Satisfy your cat's hobby of getting through the cave
Bright color Christmas gift box shape cat cube house
The inner pillow bed is removable and washable, hand wash prefer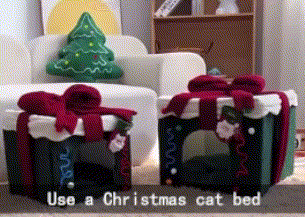 Especially suitable for cats & dogs in the following stages:
Cat or small dog who is sick and has weak immunity or lactating.
Shorthairs and hairless cats who love soft cushions and are afraid of the cold.
Insecure likes to drill in various corners, timid and cautious cats, and small dogs.
About This Item:
Christmas Themed - The adorable Christmas cat bed is made of red green and white colors which match the atmosphere of Christmas.
At the same time, it's perfect for photo shooting with your Christmas decorations. Luxurious, warm, and cozy for your pet.
Premium Quality - The Christmas cat bed cave is made from quality crystal velvet, lamb velvet fabric, and double-filled with PP cotton which is soft and warm, just like lying in a mother's arms.
Cat Cave Design - Enclosed Christmas cat bed conform cat's habit as well as the safety of the pet. Prevent cold air from being poured into it. It also keeps the internal temperature firmly locked, and can relieve pets' anxiety.
Non-Slip Bottom - The Christmas cat bed's bottom adopts a non-slip bead design that is wear-resistant and durable, waterproof, and moisture-proof.
Also, the pets will not easily move when getting on and off the bed.
Detachable Lid & Inner Pad - The Christmas cat house's lid can be separated by a zipper. It's light and comfortable that can be used as a blanket that provides sufficient warmth all year round. The inner pad is detachable and can be used alone.
Specification:
Material: Crystal velvet + Lamb velvet + PP cotton
Weight:
M: Available for cats under 17.64lbs/ 8kg
L: Available for cats under 44.09lbs/ 20kg
Size Chart:
A: 15.75"*15.75"*11.42"/ 40*40*29cm
B:
M: 13.78"*13.78"*12.59"/ 35*35*32cm
L: 16.54"*16.54"*14.57"/ 42*42*37cm
Package Includes: 1* Christmas dog & cat bed
Warm Tips:
1. Clean inner pads regularly to reduce bacterial growth.
2. Clean up the internal floating hair daily to keep the nest dry and clean.
3. Place familiar smell items in this cat's house for proper guidance in the early stage.
4. The product is a compressed package, and it is normal for the surface to be wrinkled or deformed when first opened. After standing for 1-2 days, it will recover.