HiFuzzyPet 2 in 1 Portable Dog Blow Dryer with Slicker Brush
The 2 in 1 handheld pet grooming dryer is combined with a dog hair dryer with a hair comb brush, it can make it easy to dry your pet after bathing, a slicker brush to remove tangles and loose fur, to keep the pet's hair soft and neat. Great for dog hairbrush at home, fast drying and beautiful grooming, convenient and time-saving.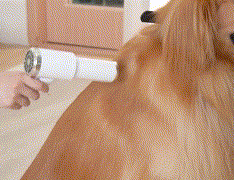 Features
Pet Grooming Dryer
Grooming at Home
3-Heat Settings
Lightweight & Portable
Drying While Grooming 2 in 1: Our pet grooming dryer can be used to blow dry furry pets after bathing, or quickly dry after walking on rainy days. In the drying process, you can also brush the fluffy fur of the pet to make the hair soft and free from knots, making it convenient and time-saving.
One-Button Hair Removal: Easy to clean, no need to pull out the hair between the comb teeth by hand, you can press the button on the back to easily clean the dead hair.
Comfortable Slicker Brush: The slicker brush is comprised of stainless steel soft pins, featuring a protected tip with a slight angle – allowing you to reach deeply into your pet's undercoat without scratching the skin.
Low Noise: The silent motor of this quiet pet blow dryer produces less than 70dB of noise, which will not scare your pet away. Your fur friends will love this hairdryer.
3-Level Adjustable Temperature: 3 Heat settings for different needs without hurting or scalding your pet.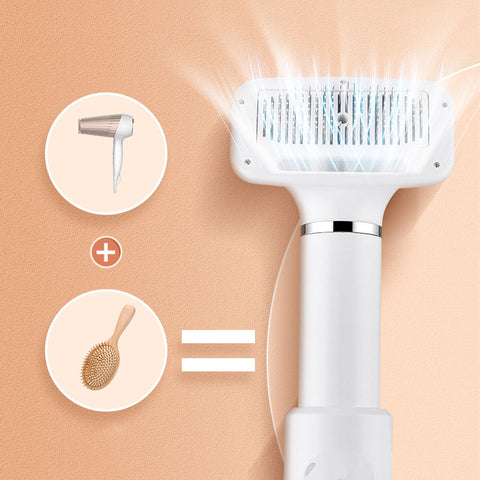 Our pet dryer is ideal for:
Drying, brushing, grooming, and styling
Getting rid of tangles and collecting fur as it sheds
Removing dead skin and dirt
Creating a well-groomed appearance
Small and medium-sized dogs and cats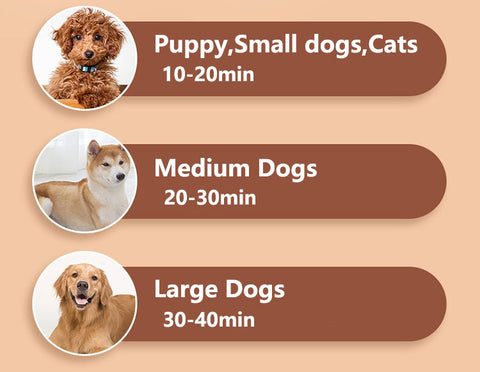 Specification:
Voltage: 110V
Power: 300W
Color: white,blue,pink
Power cord: 6.5ft cord can be rotated 360 degrees
Size: 27cm*12cm*12cm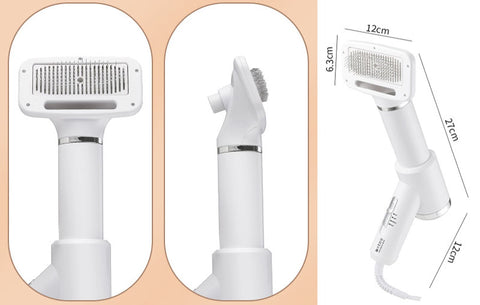 How to Use:
Dry the body with a towel. Adjust our pet hair dryer to the appropriate setting. Blowing and combing against the direction of the hair.
Push out the floating hair with one button;
Easily remove floating hair.


Package includes:
1 pc × Dog Blow Dryer