HiFuzzyPet High Visibility Breathable Dog Cooling Vest for Hiking
Dogs pant to regulate their body temperature since they don't sweat. When it's hot, it's hard for your loyal friend to work to keep cool.
Dog Cooling Vest Benefits for:
Reduce fatigue
Prevent heat stress
Alleviate dehydration
Prevent dogs from getting sunburned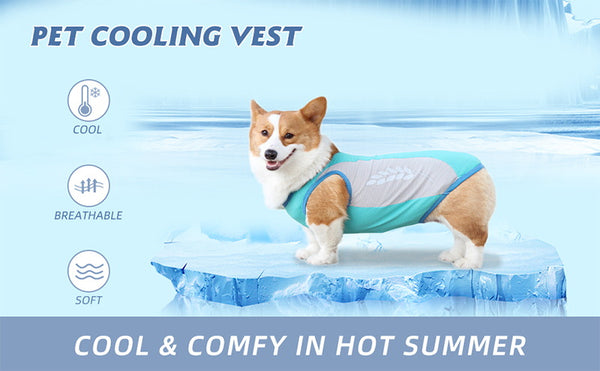 Feature:
【Cooling in Summer】 The dog shirts are made from instant cooling and stretchy fabric, feature as breathable and cozy and are designed for dogs to keep the body cool on hot summer days.
【Lightweight & Comfortable】Dog cooling jacket is lightweight and doesn't put pressure on your dog. At the same time, it is highly airy, and cool.
【Motion Cut Design】 The dog cooling jacket according to the dog's body design, wearing it on the dog will not make them feel uncomfortable and will not cause inconvenience to their movement.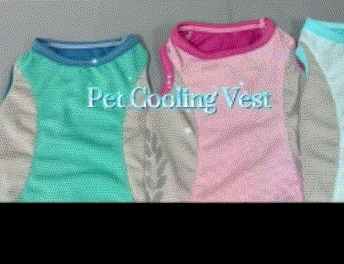 【Anxiety Relief】Use this fit and practical dog cooling vest to keep your pet calm, comfortable, and relaxed. It can stop the dogs from panting, overheating and relieves heat stress in hot weather.
【Safe Reflective Strap】 The vest's bright colors and reflective wheat ear pattern enhance maximum visibility when your beloved pets wear it, helping you spot your pet quickly in daylight, low light conditions, and nighttime.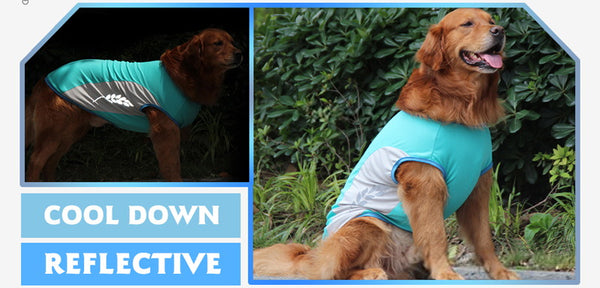 【Easy to Use】Soak the dog's cooler vest in cold water or put the vest into the freezer for 10 minutes, then wring it out and putting it on your dog.
These clothes can bring down your dog's temperature, allowing your dog to comfortably continue their summer activities.
【Operating Principle】The cooling shirt uses an evaporative cooling process to bring down your dog's temperature.
【Easy Wear & Care】Dog ice vest with an elastic material and pullover design that is easy to put on and take off. And it's machine washable.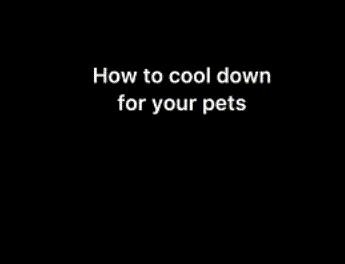 Model Display: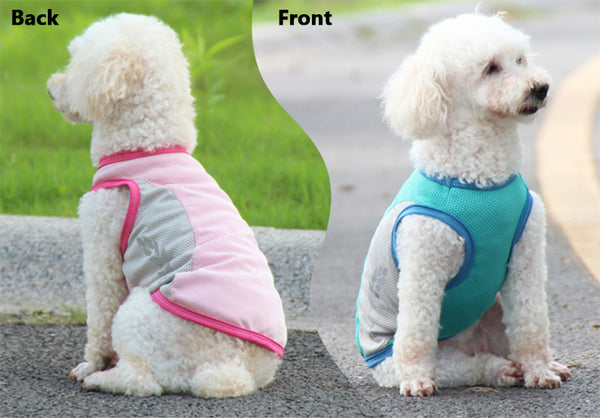 Specification:
Material: Microfiber+Mesh outer layer
Color: Green/ Pink/ Blue
Maintain: Machine wash/ Hand wash
Suit for dogs and cats of different sizes
Package Includes: 1* Pet Cooling Vest
Size Chart: If you think your pet is in between sizes, choose the big one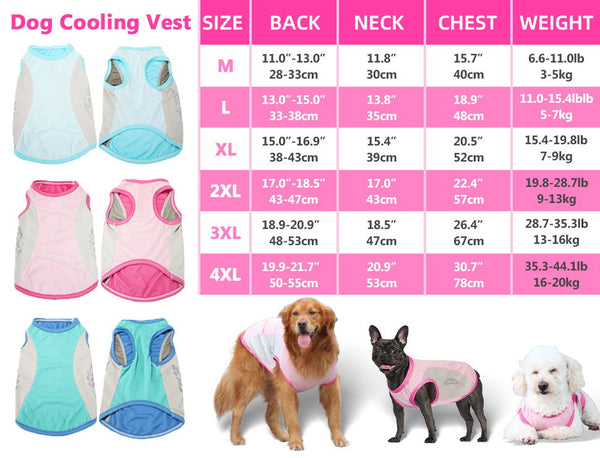 Note: Use the dog cooling vest only when your pet is traveling or feels hot, not 24 hours a day.