HiFuzzyPet Breathable Cotton Dog Diaper with Suspender
About This Item:
The suspender is designed to prevent the physiological pants from falling off, and the dog can move around at will.
Specially designed for puppies and female incontinent dogs to prevent dogs from peeing everywhere
Protect dogs from menstruation safely and easily, and avoid bacterial infections.
Keep the dog clean and prevent other pets from being harassed.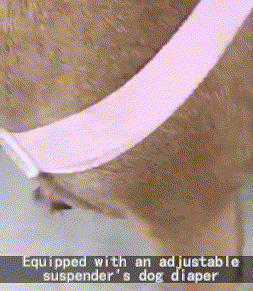 Description:
Comfy and Suitable:  The dog diaper is made of quality and reliable cotton material which is soft and lightweight. At the same time, the inner layer-breathable fabric offers your dogs extra comfort and safety.
Reusable and Washable: You can put some sanitary napkins or paper towels in the dog's sanitary pants to absorb the liquids. It can machine wash and is reusable.
Tails Hole Design: There is a hole at the bottom of the sanitary pants that can take care of the dog's tail, and give maximum comfort to the dog.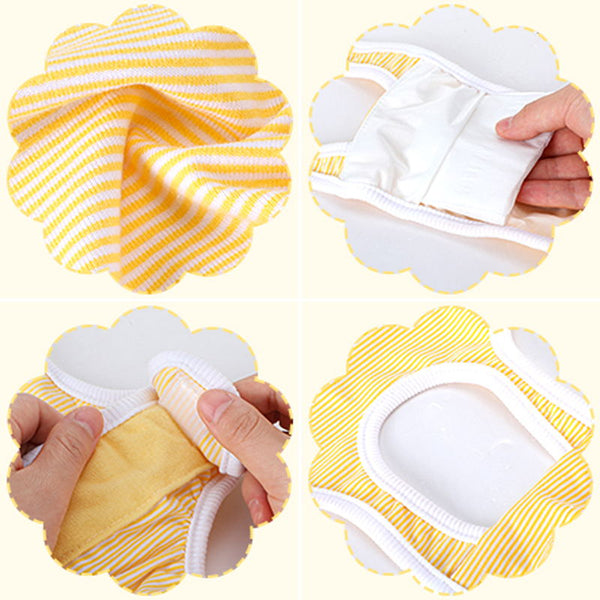 Easy to Wear: Put absorbent tissues or menstrual tissues into the clothes, then put the suspender strap on the dog's head, and stick the magic sticker on both sides of the sanitary pants.
Flexible to Wear: The dog diaper suspension strap that can be adjusted according to the length of the dog's back will not strangle the dog's neck and prevent the diaper from falling off.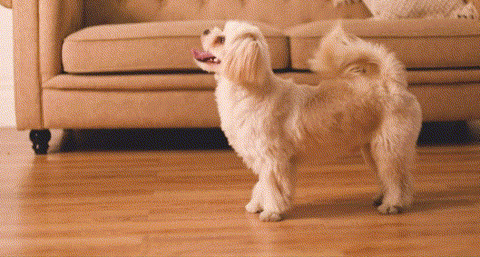 Reduce Embarrassment: Pet sanitary pants can provide good protection for female pets during their menstrual period.

Eliminates problems from untrained pups, females in season, incontinent dogs, and excitable urination. And prevent pets from bacterial infection or protect against sexual harassment from male dogs.
Cute Design & Practical Functions: The dog diaper suspenders are not only cute skirts to dress up your pet, but also good ways to solve the problem of puppies urinating everywhere, preventing carpets and sofas from getting dirty.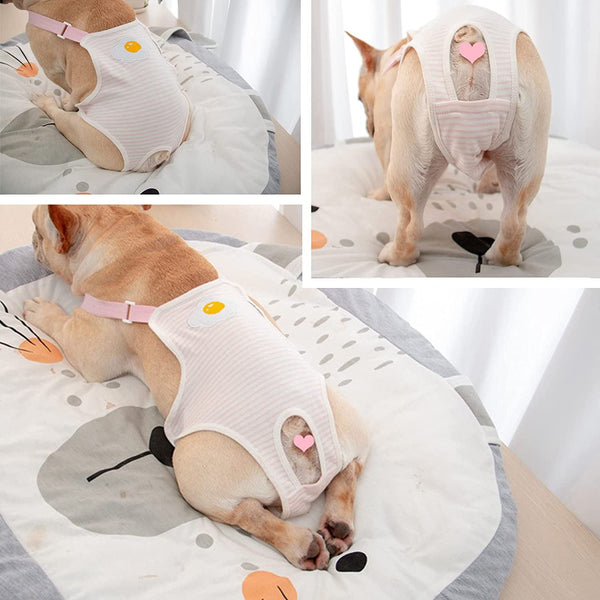 Specification:
Material: Soft cotton material
Color: Pink Chicks/Eggs, Yellow Chicks/Eggs, Purple Wings, Rainbow Stripe
Maintain: Machine wash/ Hand wash/ Reusable
Size: S, M, L, XL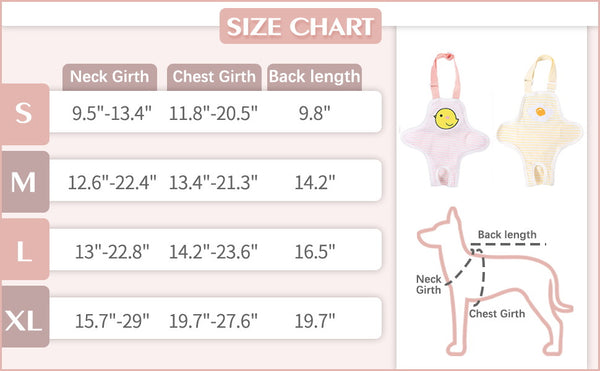 Measuring methods of dog size:
1. Measure your pet's neck circumference, chest circumference, and back length according to the position of the picture.
2. The length of the dog's back does not include the head and tail. It is necessary to match the clothes size and add 2-3 cm from the dog's actual size, which will be comfortable.
3. Dogs who have just touched the pants will not adapt at first, and they will walk strangely. This is normal. You need to wear it a few times and let your pet adapt to the clothes.
Note: 
No need to take the dog diaper off, just take off the velcro and then your pets can defecate.
This product does not include absorbent. Place an adhesive napkin on the inside of the garment to adsorb liquids
Package Includes:
1* Dog Suspender Diaper