HiFuzzyPet Full Body Coverage Dog Raincoat with Transparent Hood
Choose our dog raincoat that doesn't restrict your dog's movement - especially under the legs!

Breathable mesh lining
Elastic four-legged cuffs
High-quality metal buckle
Safety reflective strip design
360° full coverage of the hat
Feature:
Reflective Strip to Keep Your Pet Safety: The dog raincoat's reflective strip can be visible even on rainy days. The unique reflective strip design makes your pet safe when walking at night, avoiding collision and loss.
Transparent Extended Hat: The part of the extended hat is transparent EVA material. Even if it rains, it will not block the pet's sight and can protect your pet's head dry.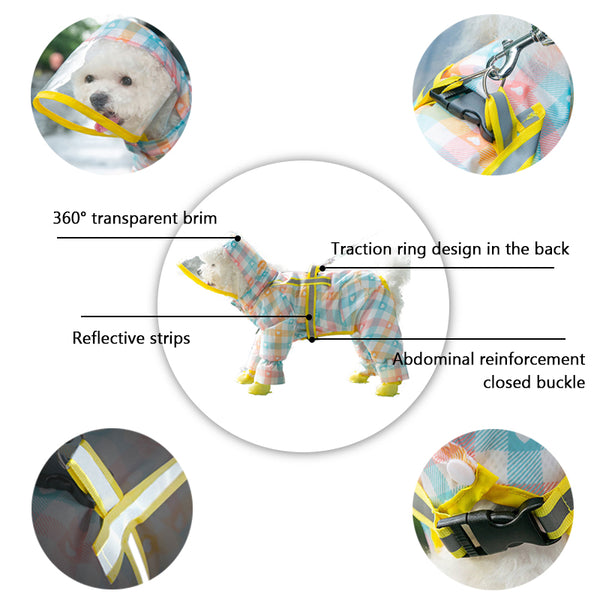 Full Body and Legs Cover: This dog rain jacket is four pants design. This will provide complete and comfortable body protection for your pet on a rainy day. Elastic leg straps ensure a secure and comfortable fit.
The length of the dog raincoat's sleeve can be cut which is convenient to adapt to dogs at different heights.
Easy to Control: The doggy raincoat uses the buckle D-ring design on the back that is convenient to attach the leash and provides extra control for your pets.
At the same time, The belly buckle design is good at preventing pets from breaking free.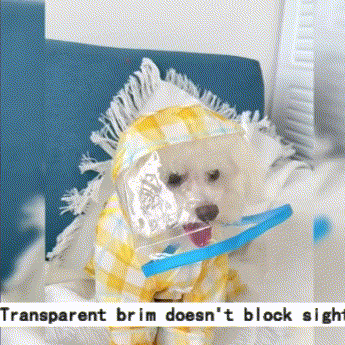 Double Waterproof: The dog raincoat is made of the professional waterproof polyester outer layer that is water repellent and impermeable, with mesh lining inside, breathable and not sultry.
It will keep your pets dry and clean even in bad weather conditions.
Pee Hole Design: For the male dogs, you can cut the pee hole so that the male dogs can pee. The female can remain it and does not affect the dog's pee and poop.
Easy to Wear & Store: Dog raincoats use a button design easy to put on or off and can be put in a bag or backpack to carry around.Not afraid of sudden changes in the weather.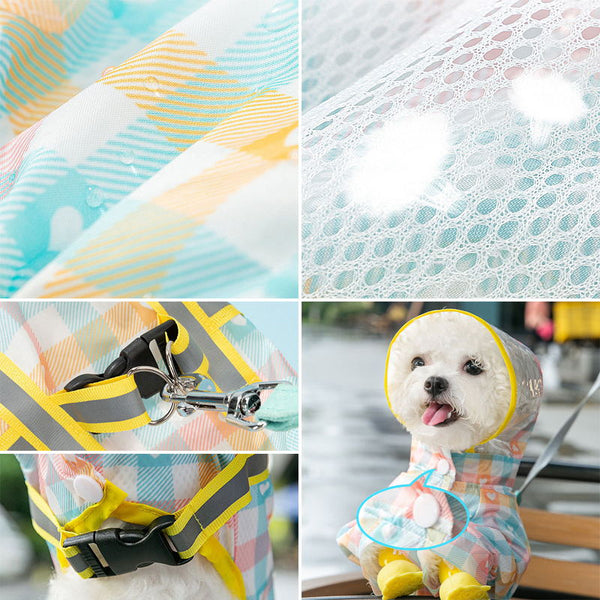 Specification:
Material: Waterproof polyester+ Breathable mesh inner
Color: Pink, Yellow
Maintain:
1. Use a wrung-out wet cloth to wipe the surface and let it dry naturally.
2. Please don't expose it to intense sunlight. 
Size: If your pet dog is "between" sizes, we usually recommend the big one for a comfortable.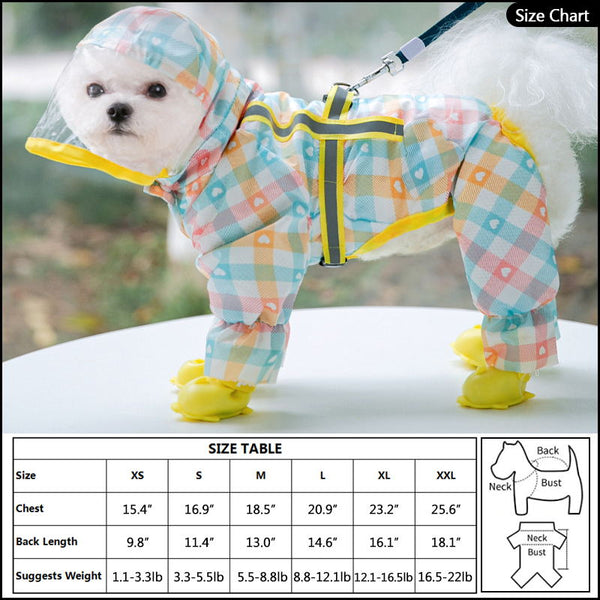 Dressing Advice: With your dog's body size fitting, dogs or breeds with short legs may encounter sleeve length problems. Don't worry, you can cut out the sleeves, and won't spoil the dog's raincoat.
Package Includes:
1* Dog Raincoat ((Rain boots not included))