HiFuzzyPet Fashion Reflective Dog Sunglasses for Eye Protection
These dog sunglasses not only keep out foreign objects and other potential damages, providing a reliable layer of protection for your pet's eyes but also make them look cool!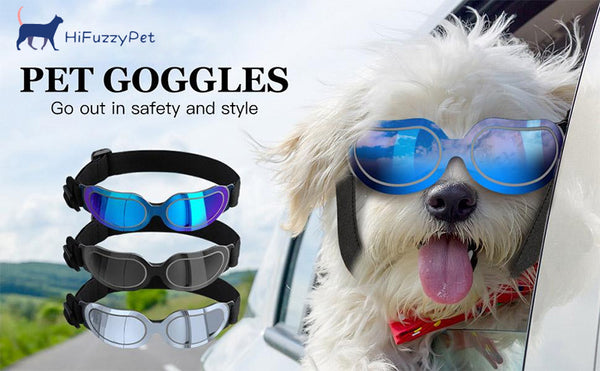 Whether you are riding a motorcycle with your dogs or hangs their head out of the truck, it will look fashionable and cool.
Suitable for blocking damage from strong winds, bad fog, strong sunlight, etc.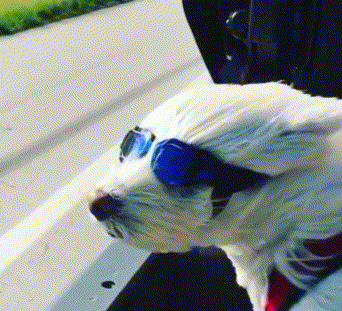 Description:
High-Quality Material - The dog sunglasses are made of high-quality polycarbonate lens, frame cotton, and nylon webbing.
Effective Protection - With shatterproof, waterproof, windproof, anti-dust, anti-debris, and UV protection.
Lightweight - Compact and portable, not increase the extra burden on your dog's eyes and head but also give it an attractive look.
Ultra Comfortable - Added the soft sponge in the inner of the goggles, to act as a buffer and elevate the wearing experience. It can be worn pleasantly all day.
Adjustable & Flexible - Easy to regulate the head and chin strap according to your pet's head shape. The high elasticity straps keep your dog from getting uncomfortable.
Breathable - The dog glasses widen nose bridge design and vents can prevent water vapor, giving your dog a truly relaxing and comfortable experience.

Universal and Easy to Carry - The dog sunglasses are especially for daily running walking or other outdoor sports, such as hiking, swimming, daily use, and dog eye disease protection. The small body is easy to carry and store.
Product Information:
Material: Polycarbonate lens+frame cotton+nylon webbing
Suit for: Middle and large dogs
Please kindly give your dog some time to adapt the dog glasses, not force them to put on them.

Product Size:
Frame: 4.72"*1.38"/12*3.5cm(L*W)
Head Elastic Adjustable: 7.9"-12.6"/20-32cm
Chin Elastic Adjustable: 6.7"-9.4"/17-24cm (No tensile measurement)
Please kindly measure your pet's size before ordering.
Package Include: 1* Dog Sunglasses