HiFuzzyPet Double Decker Cardboard Cat House Scratcher
Use this sturdy cardboard cat furniture to create the game maze of your cat's dreams.
Your cat will love to explore, nap, perch and lounge in and on this unique corrugated cardboard play house.
Description:
Durable: The dense corrugated cardboard surface is double-walled with varying thickness for increased durability.
Scratch Pad: The corrugated surface carries the rough,bark-like texture of a tree to satisfy your cat's scratching needs and away from expensive furniture.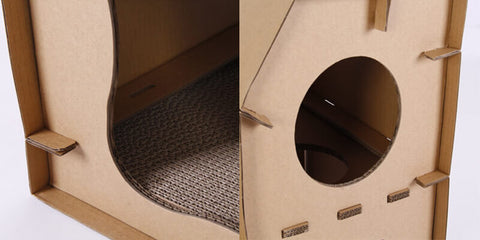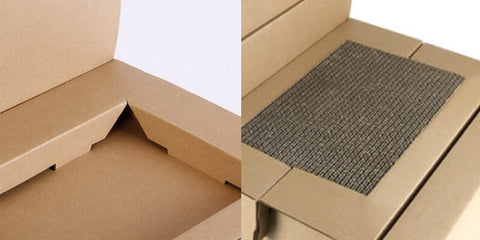 Unique design: The scratching board adopts a two-layer shell design, which provides a closed space for your favorite kitten, so that it can rest and scratch in a relatively comfortable and private environment.
DIY Decorate: This cardboard cat house comes with a blank interior and exterior so cats and owners can decorate the walls and space to their heart's content.
Cat Play House: The cardboard house not only satisfies your cat's scratching needs, it also serves as a private dwelling as well as an entertainment space for lounging kittens.
Strong But Light: Once assembled, the cardboard house is stable and will withstand all the jumping and playing your kitty loves to do. At the same time, the cardboard is lightweight and easy to move around if needed.
Easy To Assemble: The assembly process of the cat house is easy and can be completed quickly according to the detailed steps in the instructions.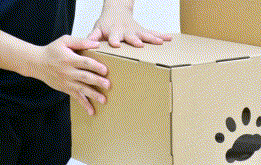 Features:
Very sturdy and easy to build
Sustainable and Non-Toxic
Big enough to accommodate several cats or small dogs
Comes with multiple scratch boards
Durable, Sturdy and Safe
Size:
A: 24*16*21inch(60*41*54cm)
B: 20*12.5*15.7inch(50*32*40cm)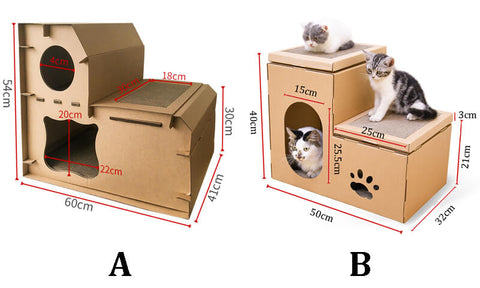 Specification:
Meatial: Corrugated cardboard
Suit for: Smaller pets such as cats, kittens, hamsters and so on.
Model display: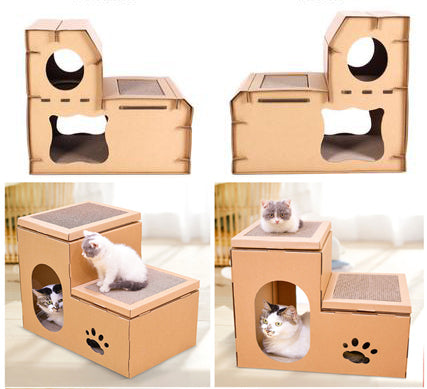 Note:
Keep in a dry area.
Do not rinse or wash.
Do not leave around heat because the cardboard will warp and soften.
Place the product on a leveled floor or ground for stability.
Package Includes:
1*Cat House
1*Instruction Book