HiFuzzyPet Flower Cat Water Fountain, 67oz/2.0L
Quadruple Action Filter
Ultra-quiet
Large Capacity
Assemble and Dissemble
Drinking regularly is important for cats' health as it helps prevent urinary tract diseases, which is a common health problem in cats.
Keeps your cat hydrated 24/7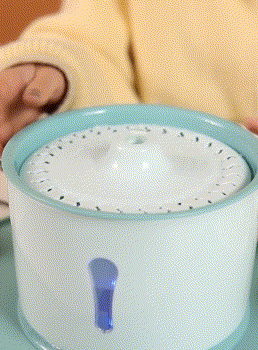 2L Large Capacity: 2.0L/67oz water capacity is suitable for different ages of cats, dogs, and multiple pet households. No need to replenish the water frequently, the storing water can last one week. Therefore you could go out for a few days without worrying about your lovely pets.
3 Different Flow Designs: HiFuzzyPet cat water fountain has three modes of flower waterfall, flower bubble, and gentle fountain - each to meet the needs of a variety of pets. The free-falling stream and flowing water make your pets love drinking water.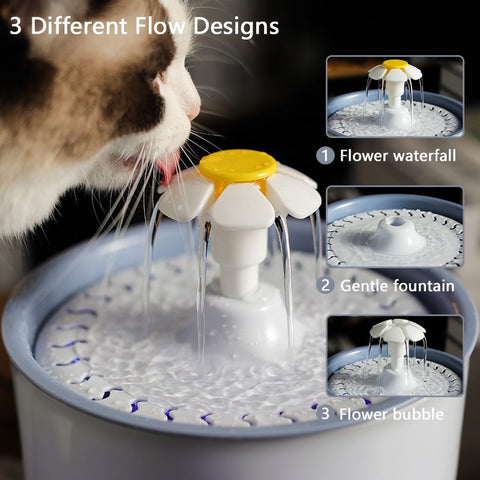 Ultra-Quiet: Our cat water fountain uses an ultra-silent pump that is ultra-quiet (measured below 30dB), which provides you and your pet a peaceful environment while resting.
Water Level Window: Pet fountain has a water level window that will indicate the level of the water. It is easy and convenient for you to see when it is needed to be refilled.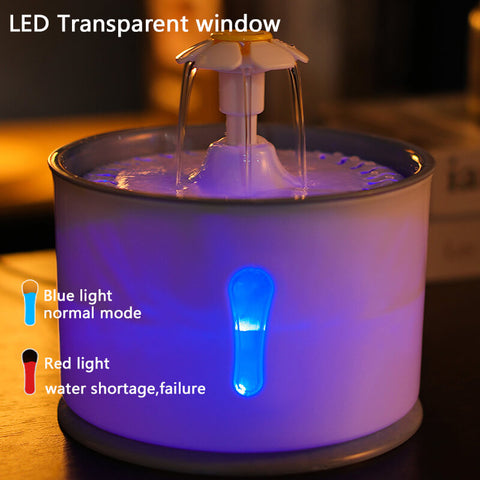 Includes Quadruple Action Filter: The filter purifies your cat's drinking water in 4 ways: 1. Cotton mesh filters out hair and debris 2. Active carbon removes odors and impurities 3. Ion exchange resin softens tap water 4. Cotton mesh filters fine particles.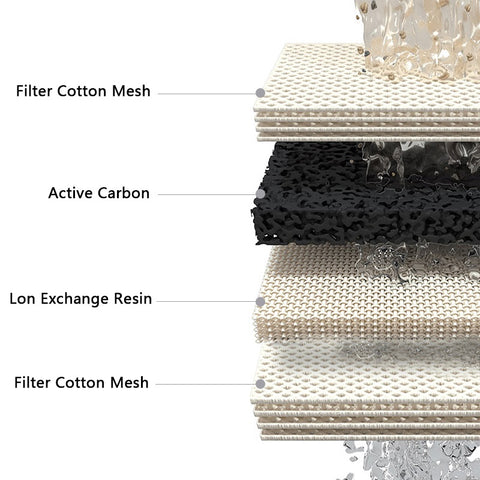 Specification
Material: PP resin/Stainless steel top, BPA-Free
Capacity: 2.0L/67oz
Power Supply: DC 5V 1A
Size: 18.8×18.8×14.8cm
Installation Steps
1. Take out the equipment and all accessories
2. Wash the basin and add water
3. Take out the filter and soak the filter in water for cleaning
4. Install the filter into the upper cover and cover the tray
5. Insert the flower spray head and turn on the power to start working
Package Includes:
1 x Cat Water Fountain
1 x Intelligent Water Pump
1 x USB charging cable
1 x Carbon filters
1 x Instruction Manual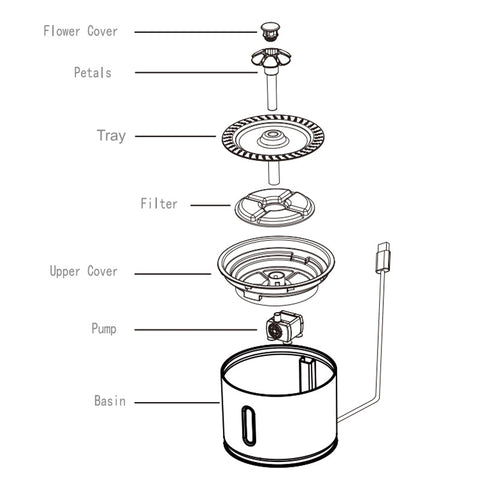 Warm Tips
1. For the health of your pet, it is suggested to change the water and clean the fountain every week, replace the sponge every 2 to 4 weeks.
2. If your fountain becomes loud, this could be a result of a low water level or a dirty impeller. Clean your fountain's impeller and ensure the water reaches at least the minimum level.
3. Please keep the cable away from pets to prevent chewing.