HiFuzzyPet Gentle Leader Dog Head Collar, Stop Pets From Pulling
This head collar provides the raiser the opportunity to offer praise and teach the puppy the correct behavior. It can prevent unwanted behaviors like pulling, scavenging, and sniffing.
It instinctively redirects your dog's tendency to pull by placing gentle pressure on pain-free points and eliminating pressure on his throat.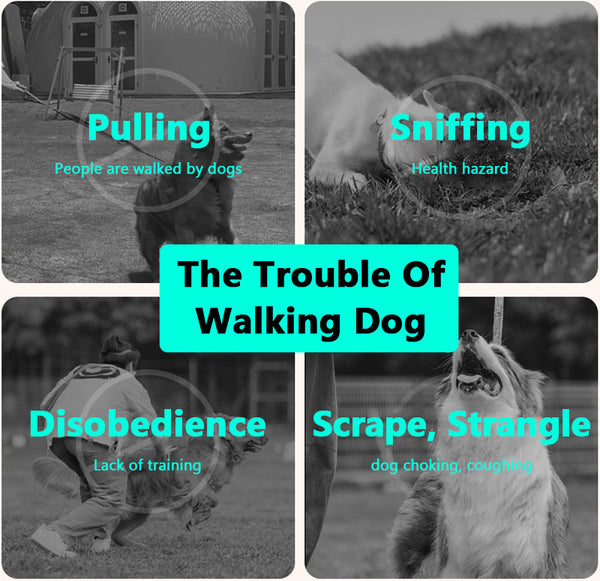 Description:
Comfortable & Flexible - The gentle lead for dogs is made of durable nylon webbing which is soft, and comfortable for pets.
You can also avoid any chaffing or irritation since it is padded generously with neoprene on the muzzle area.
Design Highlights - The dog's gentle lead fits high up on the muzzle, so it doesn't interfere with eating, drinking, or panting.
At the same time, there are 2 seams of luminous reflective threading that span the length of the strap. Keeps your dog visible and safe in the early morning or late evening.
Multifunction - This dog head harness added high-quality adjustable buckles which can be flexibly adjusted the size to get a great fit.
Plus, The round metal ring can be connected to a matching dog leash that is practical, durable, and easy to go out with your dog.
-Stop Pulling Instantly -

This dog head collar can prevent the dog from pulling in a comfortable and humane way during walks and other situations that require control. By using this dog head collar, you can get maximum steering efficiency.
It works like a halter on a horse-where the nose goes, and the body will follow.
Specification:
Material: Nylon+Neoprene
Color: Pink/ Blue
Suitable for: Medium and large dogs
Package Includes:
1* Gentle leader head collar
1* Dog leash
Size:
Snout Circumference: 7.9"-14.2"/ 20-36cm
Neck Circumference: 16.9"-22"/ 43-56cm
Leash Length: 59"/ 150cm
A Few Things to keep in Mind:

Acclimation time will vary for each dog.
This head collar is not suitable for short-snout dogs.
Headcollar is not a muzzle and will not prevent your pet from biting.
Refrain from leaving the headcollar on your dog when unsupervised to avoid chew damage.
To help make wearing the headcollar a positive experience for your dog, offer praise while acclimating to the headcollar.