HiFuzzyPet Wooden Elevated Dog Bowls
Height-adjustable tilt elevated dog bowl
This scientific design and premium quality raised dog bowls can promote digestive health and make mealtime more enjoyable for your pets.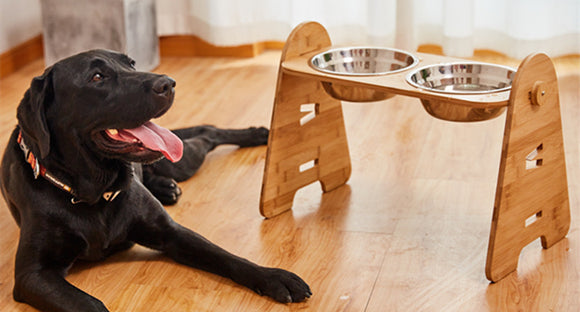 15 Degree Tilted Angle Design
The elevated pet bowls are designed with a tilt angle of 15 degrees, which can improve digestion effectively and reduce neck and joint pressure for your furry friend.
Various adjustable heights
The unique elevated cat ceramic bowls can be adjusted from 3-8 or 3-12inches according to your pet's needs. Don't worry about the inapplicability due to the increase in dog's height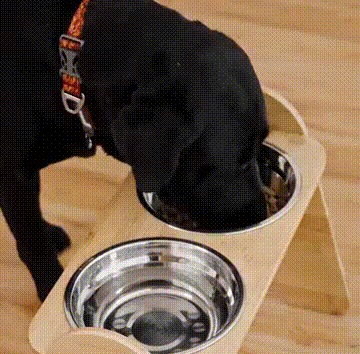 Comfortable eating Environment
Elevated feeder bowls are made of waterproof bamboo with non-slip design on the bottom. And stainless steel food bowl is not easy to mold. Pet will love the feeder.
Easy to install
2 stoppers, 1 front board, and 2 slides to build a pet stand feeder. When adjusting the height, just insert the front panel into the notch you need.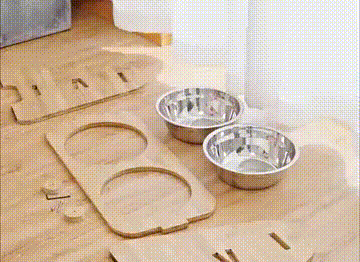 Easy to clean
Removable and Durable, dishwasher-safe. Get this feeder to create a sanitary eating area, easy to clean and handle, keep your furry pals healthy. Avoid "Cat black Chin".
Suitable for neutral or large dogs
-Medium-sized dogs
-Pets with neck, back, arthritis problems
-Pets susceptible to bloat or mega-esophagus
-Height suitable for all ages of the dog's growth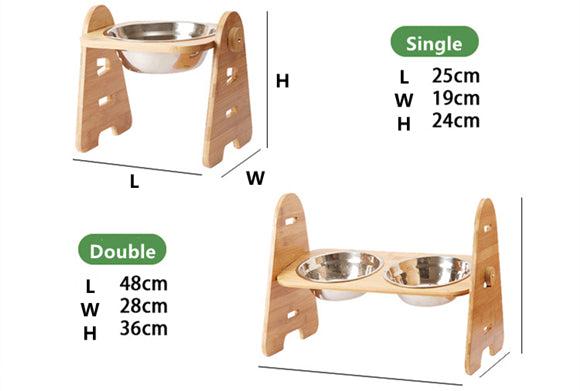 Specification
Size: Single 25*19*24cm/Double 48*28*36cm
(Adjustable height)
Color-Wood color
Suitable for pets within -60 kg
Capacity-1000ml of sleep or 600g of food
Material-Bamboo and stainless steel
Package includes:
1*Dog bowl shelf assembly
1 or 2 dog bowl
Installation Notes
Installation tool