HiFuzzyPet Cat Fountain Pet Dog Water Dispenser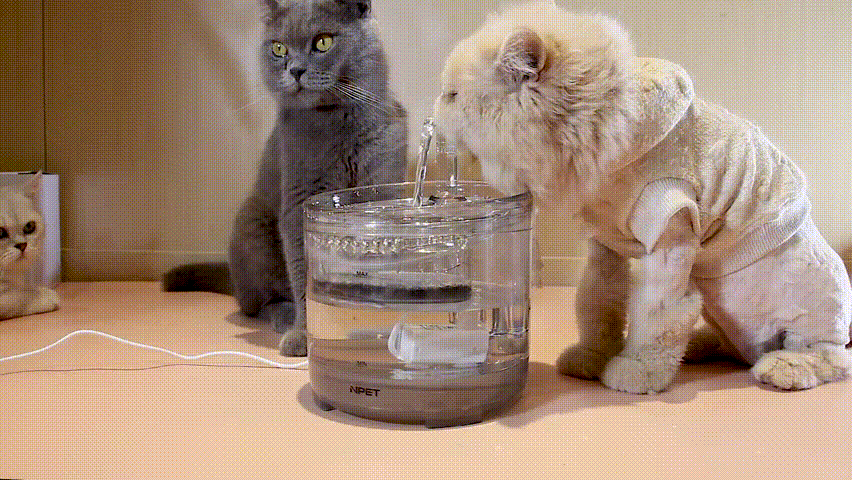 Features
Upgrade Large Capacity Cat Water Fountain: 1.8 L water capacity is suitable for different ages of cats, dogs, and multiple pet households. No need to replenish the water frequently, the storing water can last one week. Anti-fall and durable.
Filtered Water Replacement Drinking Fountain: cat fountain adopts a high-density and high-content activated carbon filter, which can effectively maintain water quality, remove bad taste and odor that provides fresh and clean water to pets.
Design Concept Safe Pets Water Fountain: Visible full transparency water tank, it is easy to know when to clean and change the water. So that your pet can always drink clean and healthy water. Component structure, easy to install and clean.
Encourage Drinking: This cat water fountain is equipped with a faucet and spring surge modes which match the drinking habits of cats, dogs, and other pets. Adjust the faucet height by taking out or set up the middle part.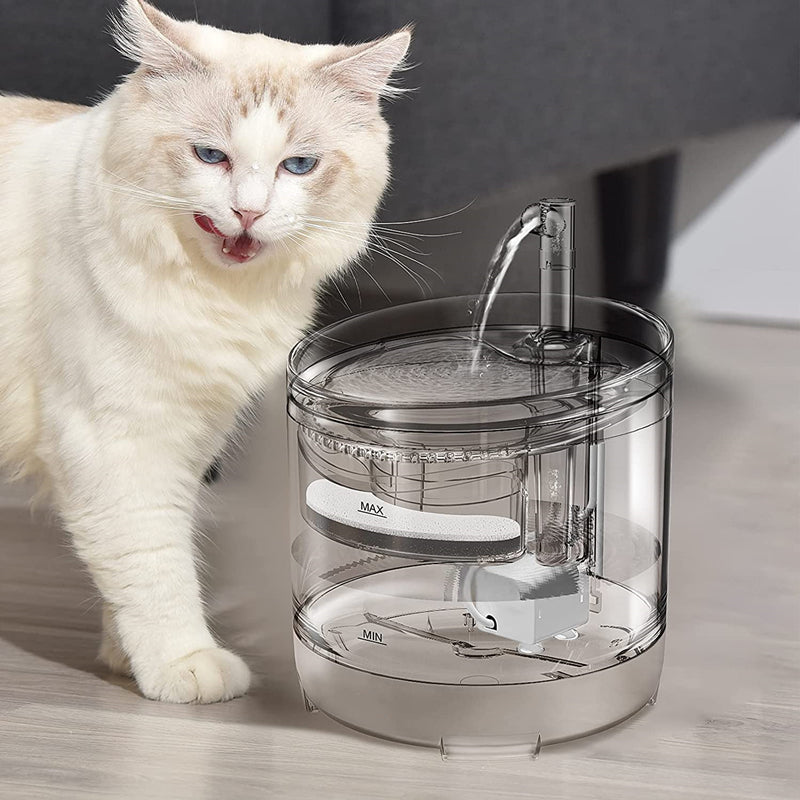 Specification
Material: safe PS resin/PC
Capacity: 61OZ/1.8L
Input Voltage: 5V/100MA
(Even if the line is bitten, there is only 5mA, won't hurt your pet)
USB Power Cable Length: 78 Inch/1.98M
Target Audience: Dogs, Cats, Birds, etc.
Size: 6.5 * 6.5 * 6.1 Inch / 16.5 * 16.5 * 15.5 CM
How to Clean the Pump

Notice:
Please don't take off the silicone hose attached to the pump when you install the fountain.
According to your pet's drinking frequency and the number of pets using the fountain, replace the filter every 2 to 4 weeks.
Package list
1* Drinking Water Fountain
1* Adjustable Pump with USB Cable
8*Activated carbon filter
1*Manual
1*5V 100mA Power Adapter(Even if the line is bitten, there is only 5mA.)