HiFuzzyPet Multifunctional Horse Brush for Shedding Grooming & Massage
A 6-in-1 horse shedding grooming massage brush with all the features of one toolset: 
1. Add shine to the coat
2. Groom the face safely
3. Remove shedding hair
4. Lather shampoo & lift dirt
5. Scrape off sweat & rinse water
6. Stretch & warm the horse's muscle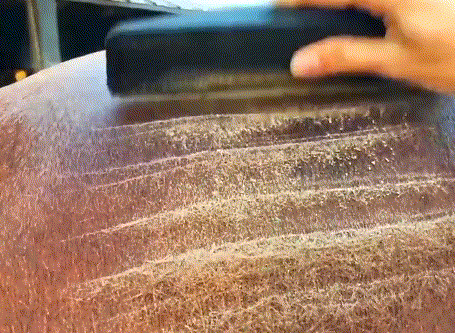 Feature:
Upgrade Design: This horse brush adds 11 round holes in the middle, it is increasing its flexibility, bends easily, and is convenient to use. At the same time, increases its ventilation area, and reduces odor.
Sustainable Materials: Multifunctional horse brush is made of ABS material which increases the hardness while being elastic, has a strong cleaning ability, and is not easy to wear and deform.
Good Decontamination Effect: The massive matte diamond facet aspect easily lathers up to urge deep into the skin and take away dirt.
The tiny matte surface can be used to clean delicate areas like the face and legs.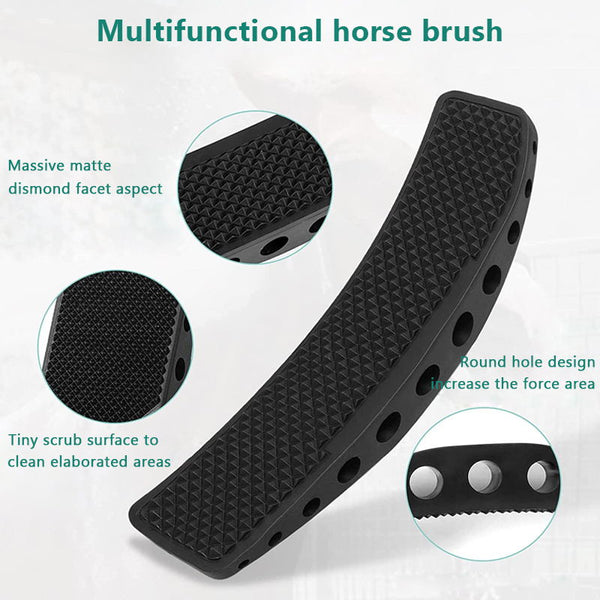 Remove Shedding Hair-Blade Free: The horse brush can quickly brush away loose hair that falls out naturally and without the risk of damaging the horse's coat or skin. 
Flexible and Portable: The multifunctional horse hair brush is small and compact that easy to carry and clean. The ergonomic hand grip is very easy for the horse to clean.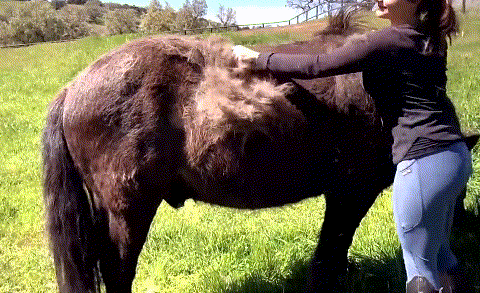 Massage & Therapy Aid: Regular use of massage horse brushes can help heat and stretch your horse's muscle tissue, benefit your horse's muscle nerves, boost your horse's blood circulation, release natural oils, and help improve and enhance your horse's mobility and health.
Safe to Use: The flexible fit fits the animal's entire body and can be used safely anywhere, including the legs, face, and all sensitive areas.
Clean Saddle Pads: This horse brush can remove hair, ground-in dirt, and crusty sweat from saddle pads. It will not damage the fibers like sharp tools can.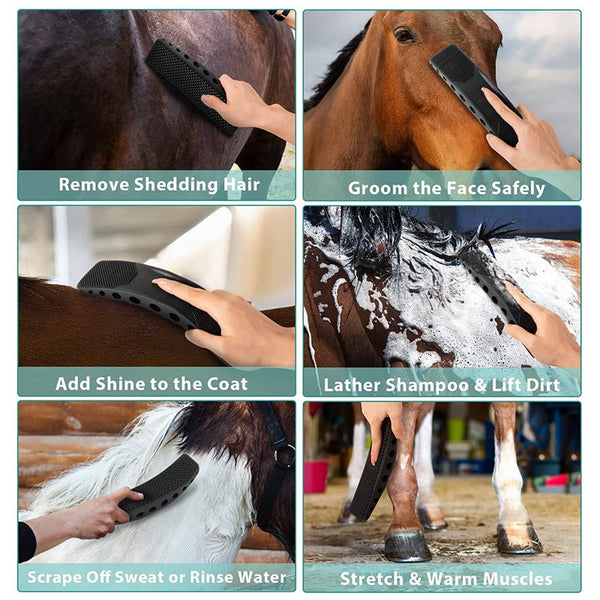 Specification:
Material: ABS material
Color: Black/ Blue/ Red
Weight: 0.42lb/ 190g
Size: 8.66"*2"*1.18"/ 22*5*3cm
Function: Hair removal, massage, beauty, cleaning, and so on
Package Includes: 1* Multifunctional horse brush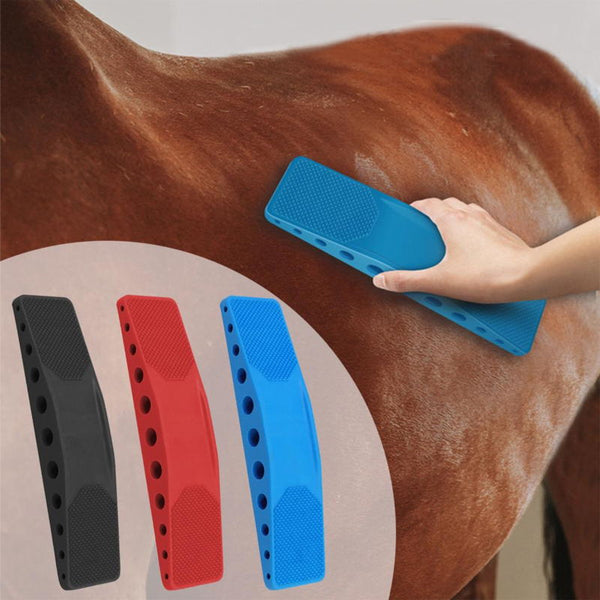 Tips: It is not only suitable for horse hair removal beauty massage, but also suitable for daily hair beauty massage for all kinds of cats and dogs.