HiFuzzyPet Duck Dog Training Bumpers for Hunting
This duck dog training bumper is a perfect training tool for hunting dogs.
Under your accompany, and proper guidance, all dogs can have a wonderful time with this duck dummy!
The design encourages proper pick-up/hold
Will not damage teeth or eye sockets
Soft floating head
Durable PVC outer body
Foam filling yields a lifelike ducky feel
Will not absorb water or emit foul odors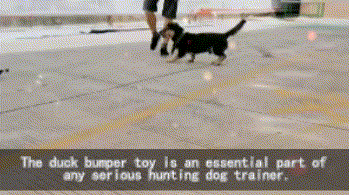 Feature:
Strong & Durable Material: The dog training bumper is made with ultra-tough foam material to float and filled for buoyancy. The bird training dummy's body is coated in waterproof PVC that prevents hard mouthing and is filled with dense E.V.A.foam material for buoyancy and a real bird feel. 
Easy to Throw: A long throw rope with a knob is embedded into the body, Easy to throw a long distance with the knob at the end of the rope, you can throw, pull, etc. to increase the feelings between you and your pet. Made for an easy toss on land or water, you are able to train your dog to retrieve both on land and in water environments.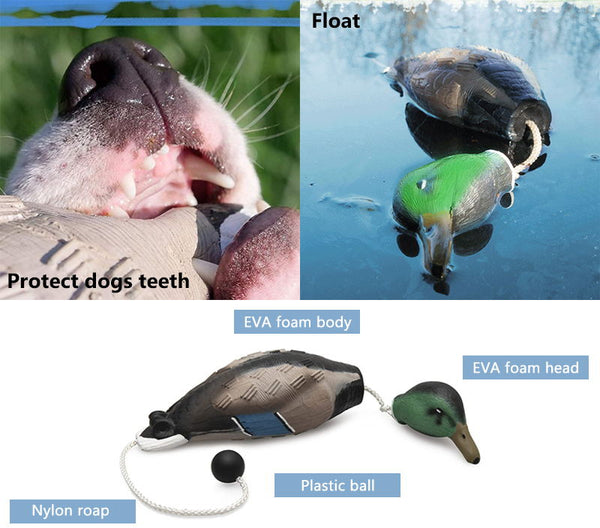 Convincingly Realistic: Designed to replicate the look of a real duck. The free-swinging head mimics a real, freshly downed duck and familiarizes your dog with the real size and feel of a dead duck. Close to real duck size with the ribs make it easy for young dogs to grab. 
Excellent Choice for Training Hunting Dogs: Designed with both the trainer and puppy in mind, the duck dummy bumper teaches every hunting dog to correctly pick up, carry and hold waterfowl game birds. Its proper preparation and conditioning will make your hunts enjoyable.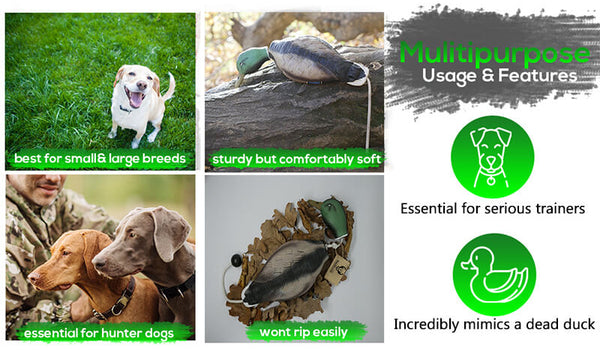 Specification:
Material: EVA foam, Nylon, Plastic
Approximate Size: 18.1"*3.9"*3.9"
Suit for training medium and large breed dogs
Weighs approximately: 7.1 oz/ 0.18kg

Note: This is not a chew toy for dogs, it suppose to teach dogs to pick up and hold mallards properly.
Package Includes:
1* Duck Dog Training Bumper