HiFuzzyPet Inflatable Dog Cone Collar
Lightweight
Soft and comfortable
Do you worried about your lovely pets suffering from healing wounds or injuries but cannot recovery smoothly and comfortably? If so, your cat or dog needs our inflatable recovery collar to prevent them from licking the wound.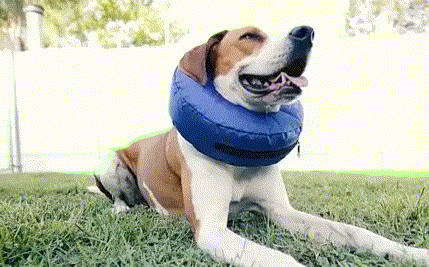 Feature:
【Adjustable Strap】The collar is connected by a durable and stable plastic buckle. You can adjust the strap for a perfect fit and put the strap side at the back of your dog's neck in case of biting.
【Another Adjustable Strap】There is a velcro strap on the opening of the collar which can allow you to adjust the tightness of the collar around your dog's neck to the perfect fit.
【Wear Comfortable】The inside of the collar is PVC material and the outside is quality short plush material, soft and non-stick pet hair. It allows your dog to wear comfortably while maintaining the pet's peripheral vision and the ability to eat and drink.
【Easy for storage 】The inflatable cone collar's design allows you to deflate and fold when not in use, then store it in a small space or carry it with you.
【Detachable design】The outer cloth bag with a zipper makes removing and washing the cover easy, you can wash it by hand or machine.
【Scratch and Bite Resistant】Inflatable collar is designed to protect your pets from injuries, rashes and post-surgery wounds which is promote recovering from surgery or wounds. It will prevent pets from biting and licking their injured area or surgical site.
Specification:
Material: 

PVC and short plush outer circle

Suit for small and middle dogs and cats
Size chart
How to Inflate the Collar:
Pinch the base of the stem as you blow, it inflates very easily.

 

(Blow directly with your mouth, just like blowing a balloon)
After blowing the air, loosen the inflation valve and cover it tightly.

 

(The inflation saturation should not exceed 80%)
 Note:
Pinch the air valve so you can deflate and inflate fast.
Some dogs may feel uncomfortable if it's the first time to use the inflatable collar, they may try to kick it off with their hind legs.
If your pet feels loose when wearing the collar, we suggest you insert your pet's daily use collar through 3 black straps of the inner ring loops for stabilization.
Package Includes: