HiFuzzyPet Waterproof Long-Legged Dog Boots for Winter
While dogs are usually happy and healthy in their bare paws, there are some weather conditions where boots can offer much-needed protection and insulation, particularly in winter.
Suitable for walking your pet in rainy or snowy weather. Keeping the house clean even in a muddy environment.

Essential for hiking & running. Let the dog enjoy outdoor time while also giving its paws good protection.
Be used to protect wounds and prevent the wound from getting worse under the dog's activities.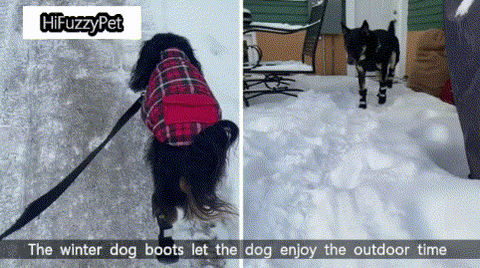 Feature:
【High Quality & Waterproof Material】Dog hiking boots are made with waterproof fabric. The high-cut dog shoes can be completely immersed in water without getting wet which keeps the dog's paws dry and clean on a rainy or snowy day.
You just need to wipe it up with wet clothes without the complicated clear work.
【Thicken Fleece Lined Inside & Fashionable Color】Our dog winter booties are paired with thickening fleece-lined which is self-healing. Fill with soft lining to protect the soles and ankles of your dog's feet and make them comfortable.
Also, keeps your dog warm and protects your dog's paws from freezing in the winter.
【Non-Slip Durable Sole & Paw Protection】The rugged sole is sewn with the waterproof whole vamp, providing stability and traction so that dogs will not slide when walking on wet roads. 
 【Adjustable Band & Reflective Trim】There are two adjustable hook and loop fastener straps on each shoe, capable to prevent slipping off and supply customized tightness for secure closure. The reflective trims on the strips, improve the visibility in night runs and walks and ensure the safety of the dog.
【Elastic Band Ensures A Tight Fit】The dog rain boots expand with a wide collar and are equipped with an elastic strap. You can adjust the comfort according to the dog's leg girth after putting on the shoes. The elastic straps make dog shoes suitable for different breeds of dogs, preventing dog shoes from falling off the dog's paws. Easy to put on and take off.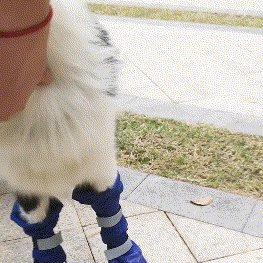 Specification:
Function: Waterproof/ Non-slip/ Warm/ Wear-resistant
Material: Waterproof fabric + non-slip Oxford bottom + reflective straps
Application: Medium and large dogs/ Not for small dogs
Size: XS/ S/ M/ L/ XL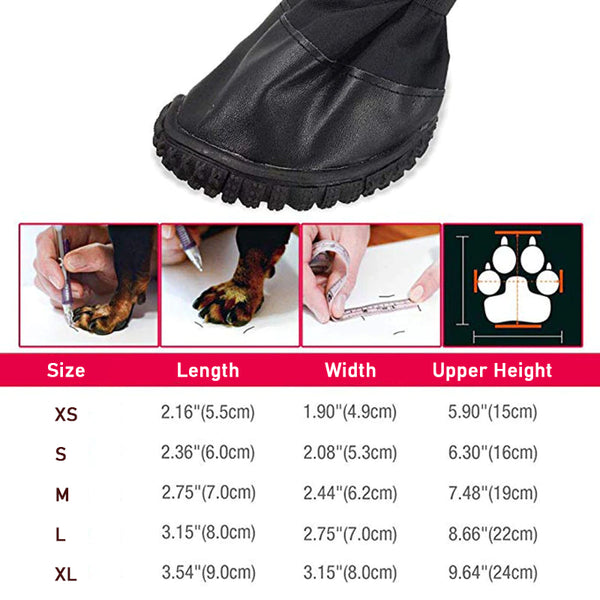 Measurement:

Place the pet's paws on a piece of paper and press down on the top, mimicking how the paw spreads when the dog is walking.
Measure the paw width, mark it on the paper and measure the distance.
Measuring the leg height, over your dog's knees a bit high, reserve 1/2 top space to ensure your dog can walk great.
Based on the measurement choose a suitable size for your dogs.
Warm Tips: 
These boots are long, and not recommended for dogs with short legs, like corgis, pugs, dachshunds, etc.
If your dog is wearing dog shoes for the first time, she/he may take off dog shoes in the first few seconds. Please let your dog try a few times until she/he gets used to walking in dog shoes.
Package Includes: 1 Set of Dog Boots (4PCS)