HiFuzzyPet Non-slip Cat Food and Water Bowls, Raised Pet Bowl
The benefits of an elevated cat bowl are to promote great digestion and provide an ideal feeding position and Angle for your pet.
This is a great way to prevent neck and back pain from your pet bending too low to reach for food.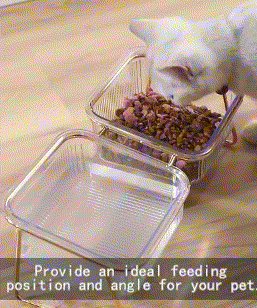 Feature:
High-quality Plastic: The cat bowl is made of high-quality plastic material which is healthy and safe. Thickened plastic material, not easy to break, and can avoid chin acne.
Bowl stands are made of iron. It's firm and durable, contracted and fashionable.
Detachable Cat Bowl: Cat bowl set is a freestanding, separating design that allows easy removal, addition, and cleaning of food or water. 
Non-slip Bowl Stand Mat: Raised cat bowl with sturdy bowl stand, equipped with 4 small non-slip pads, stable bowl stand, will not shake and slip away. 
12° Tilt Design: The rose golden cat bowl stand adopts a 12-degree tilt design, the tilted cat food bowl keeps food piled or falling to the center, and it helps keep the food from being pushed off the bowl.
Easy Clean and Storge: The cat food water bowls are easy to clean and can be washed directly with water. The bowl is separated from the bracket for easy storage and carrying.
Double Bowl Design: Double elevated pet bowl suitable for dry food, canned food, wet food, water, etc. A set of 2 cat bowls allows you to separate food and water for healthy feeding. Can also feed 2 kittens at the same time.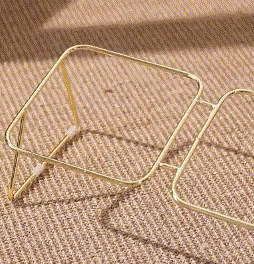 Reduce Spine Pressure & Less Vomiting: The raised cat bowls allow your pet to take out everything without straining the neck. The elevated cat bowl put a cat's mouth in a suitable position in relation to its stomach, it helps cats swallow easily and alleviates their occasional vomiting.
Tilted cat bowls can disperse joint pressure, improve eating posture, and avoid abdominal distention, vomiting, dysphagia, and cervical spine problems caused by poor eating posture.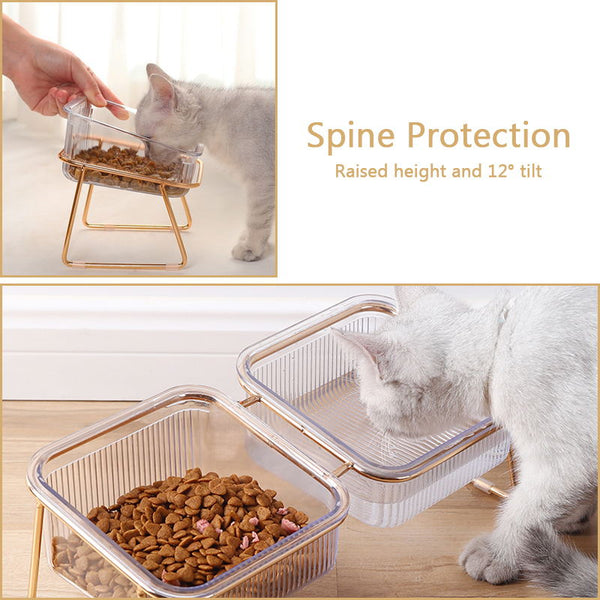 Specification:
Material: ABS+Metal+Soft rubber (nonslip)
Color: Golden+Transparent
Suitable for flat face cats and small middle dogs
Size:

Sigle Bowl: 5.7"*5.7"*4.3"/14.4*14.4*11cm (L*W*H)
Double Bowl: 12"*5.7"*4.3"/30.5*14.4*11cm (L*W*H)
Package Contains:
1*Iron frame
4*Anti-slip particles
Single/Double raised pet bowl
Note:
1. These bowls are plastic and not glass bowls.
2. Do not use hot water above 60 degrees for cleaning.