HiFuzzyPet Reflective Dog Slip Leashes with Handle
Whether you want to enhance your dog walking experience or exercise your dog at night, this is the right dog leash you should try!
It's also great for jogging, running, camping and hiking, enjoy a good time with your pet!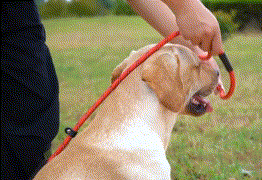 Feature:
Designed for Comfort & Convenience- A leash and collar all in one,this traction rope is perfect for dogs who don't wear collars, or for owners who hate fumbling with leash hooks and collar loops.
Padded Handle for Comfort- The padded handle makes it much more comfortable to hold and wrap around your hand which can protecting your hands from rope burn. 
Built to Last- Made of strong high density nylon rope and very durable metal clasp for durability.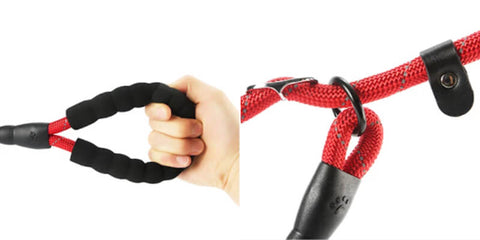 Adjustable Loop- Fits any size neck and the limit buckle prevents your dog from slipping out of the leash.
Night walk safe- Highly reflective threads leash keep both you and your dog a safe late evening walks or in the country.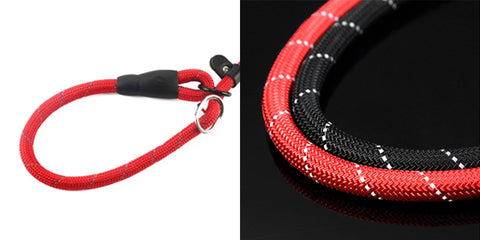 Size:
0.3*55IN(0.8*140cm)
0.3*67IN(0.8*170cm)
0.3*78IN(0.8*200cm)
0.4*55IN(1.0*140cm)
0.4*67IN(1.0*170cm)
0.4*78IN(1.0*200cm)
0.5*55IN(1.2*140cm)
0.5*67IN(1.2*170cm)
0.5*78IN(1.2*200cm)

How to Use:
Slip the leather clamp loosen enough to around your dog's neck.
Pull the leash over your dog's head and adjust the slip around his neck. Make sure its cinched just under the jaw bones and not low on the throat, this is comfy for the dog and a light tug brings him under control.
To prevent your dog from backing out of the leash,adjust the leather clamp to fit this neck, and leave 2-3 fingers of space to the leash loosens.
Ready for adventure.
Package includes: