HiFuzzyPet Silicone Short Snout Dog Muzzle for French Bulldog
Short Snout Dog Muzzle - Designed for short nose dogs that are not suitable for traditional muzzles!
What are the benefits of a dog muzzle?
√ Anti-Chewing furniture
√ Anti-Licking a wound
√ Anti-Biting people
√ Anti-Barking
√ Grooming
√ Seeing a veterinarian
Features:
Stop Bad Habits: Ergonomically designed muzzle offers a safe and humane way to prevent your dog from biting, chewing, and licking wounds. 
Soft & Durable Material: Made of soft and non-toxic rubber, enhanced durability makes the muzzle strong but soft. Rubber dog muzzles give all-around mouth protection, and do not bruise the dog's mouth, and hurt the skin. Your dog will feel comfortable and doesn't panic.
Pet Muzzle for Flat-faced Dogs: This dog muzzle has a three-hole design, not only provides the maximum and clear field of vision for the dog but also makes the dog's breathing smooth and free. Your dog can breathe, drink, and even feed while the muzzle can effectively inhibit biting chewing, and licking. Can be used for vet visits and grooming.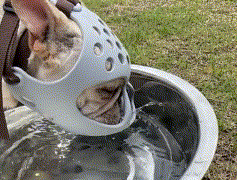 Adjustable and Secure: Adjustable nylon neck strap designed with a buckle allows you to quickly adjust the fit size for your dog. Even an escape master, this dog's muzzle can't be slipped off easily.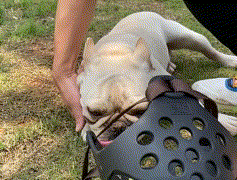 Easy to Clean: Don't worry about food residues and soil and other difficult-to-clean filths. You only need to rinse it with water to keep it clean.
Applicable Breeds: These short snout dog muzzles only fit short snout dogs and flat-faced dogs. such as French Bulldogs, English Bulldogs, American Bulldogs, Pugs, Shih Tzu, Boston Terriers, Pekingese, Bully, Tibetan Spaniels, other small, medium, large flat face dogs, or other flat-nosed breeds.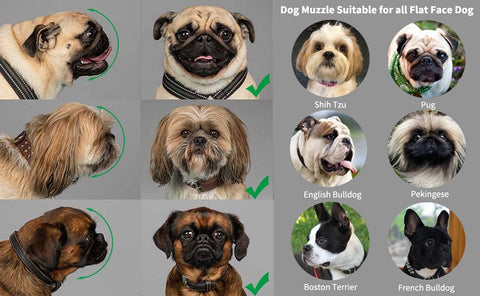 Size information:
Please measure your dog's head circumference and choose the right size before you order.
Small fits neck girth of 10.6-12.6 inches.
Medium fits neck girth of 12.9-14.5 inches.
Large fits neck girth of 14.9-16.9 inches.
Package includes:
1pc × Short Snout Dog muzzle