HiFuzzyPet Silicone Elevated Cat Bowls with Stand
Specially designed 15°Tilted Platform Pet Double Feeder gives cats a healthy life.
Heightening the base and tilting 15 degrees to provide a comfortable angle of feeding, reducing cervical compression caused by over-heading when the cat is eating too much.
The cat feeder and base are detachable for easy cleaning. A set of double feeders designed to take care of drinking water at the same time. The transparent bowl is designed to directly monitor the cat's intake and drinking.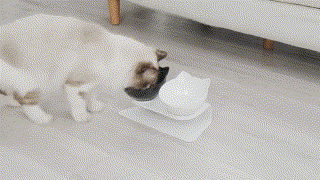 Features:
15° Tilt Design: 15°tilted platform, reasonable feeder height reduce the stress of cats neck, arthritis or back, so comfortable for your pets which promotes the flow of food from the mouth to the stomach and makes swallowing easy.
2.75 inches Raised Stand: Perfect 2.75-inch eating height for maximum comfort, Raised the bowl to reduce the cat's neck burden and promote the health of the digestive system when eating.
Double Cat Dishes: 2 Cat bowls for food and water, Two different treats at once great kitty bowls for dry food or wet food and water. The transparent bowl is designed to directly monitor the cat's intake and drinking.
Non-slip Design: The cat bowl features 4 non-slip rubber at the bottom to prevent the bowls from sliding.
Removable & Easy to Clean: The cat feeder is removable and easy to remove to keep it clean. Just use a rag or sponge to clean, then rinse with water and air dry.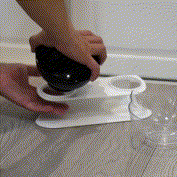 The shallow depth and angle make cat bowls easy for cats to get food, prevent beard fatigue and keep the face clean.
The cat food bowl in a large oblique rim reduces cat food dropping and is suitable for flat-faced cats.
Specification:
Material: PC+AB

Suitable for: Small dogs and cats
Stand height: 2.75

''(7.5cm)

Cat Bowl Diameter: 5.1''(13cm)
About 70g cat food/250ml water per bowl
Size chart
Because the bowl has a tilt angle, the water can't be loaded too much.
 For the health of your cat, wash the bowl and change water/food frequently.
Package Includes: