HiFuzzyPet Cute Flower Shape Cat Cone Collar, Waterproof
Injured cats and cats that have just been neutered need a recovery soft cat cone collar.
The Elizabethan collar prevents them from licking the wound and speeds up the healing of the wound.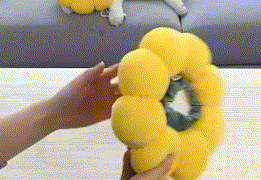 Features:
Adjustable, fit kitten & adult cat well.
Soft, cat can eat, walk and sleep normally.
Lightweight, this collar is stuffed with cotton, will not burden your cat.
Fit anywhere, cute enough, and it will not hinder the communication between you and the cat.


Super Soft Material: All of this collar is made of super soft and light-weight cotton, ensures pet comfortable wearing experience and won't irritate pets skin, and makes your pets move freely and does not interfere with their normal activities such as eating, sleeping, playing, etc.
Adjustable String: There is an elastic band on this collar. You can adjust the band to make it suitable, and then place it on your pet's neck to avoid biting and tie the string to prevent pets from breaking free.
Waterproof Material: The outer layer of the waterproof cat cone is made of waterproof fabric, so we don't have to worry about getting wet and keeping the cat clean and dry.
Prevent Bite & Protects Furniture: This dog recovery cone is not only designed to prevent scratches and bites on injuries, sutures, rashes, and wounds. but also protects furniture, walls, and other surrounding objects from marks or scratches as well as it can be widely used in pet bathing, pet trimming, etc.
Unique Shape: Cute shapes designed as sunflower, make this recovery cone to be an eye-catching accessory for your lovely pets as well. Great for photoshoots, fun party days, or for Halloween or Christmas gatherings.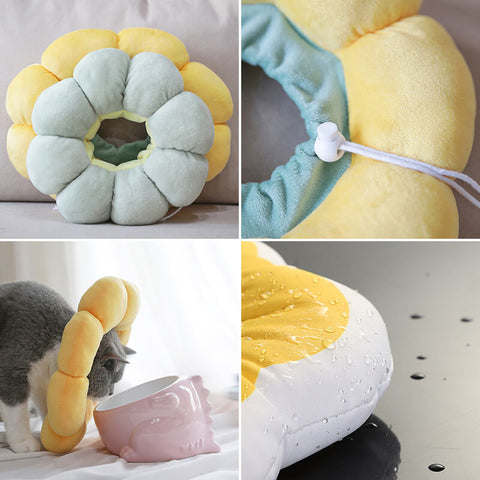 Specification:
Material: PP cotton filling + crystal velvet/water-resistant cloth
Color: Yellow, Blue, Gray, Green; Pink, Purple, Yellow(Waterproof)
Suit for: Small to large cats and small puppies
Package Included: 1 x Cat recovery collar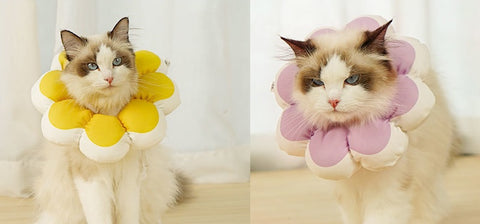 In order to ensure the normal use of the collar, please make sure that the collar can pass through the cat's head.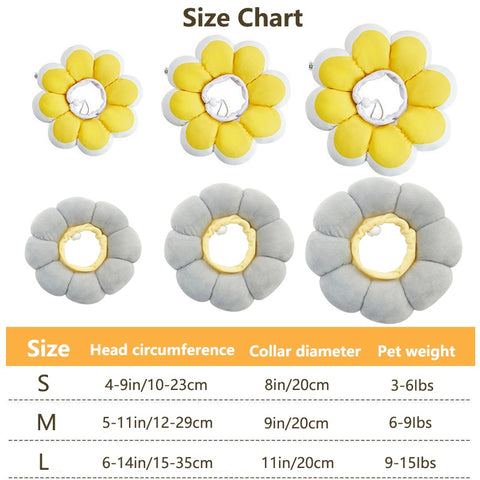 How to properly measure your pet's size?

Soothing your pets.

Use a soft ruler to measure the head circumference, assuring that your pets' heads could go through the cone.

When the collar is tight adjusted, please ensure that there is still a 0.4-0.8" space from the neck.